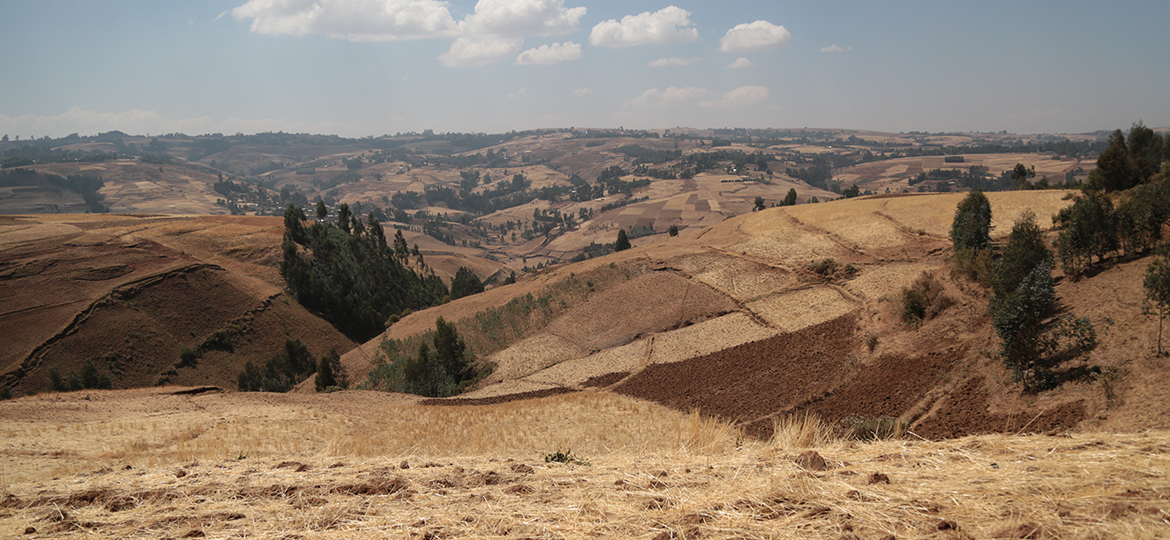 Project Area
Jeldu
Jeldu
Long-term capacity building for 100,000 people.
Since the beginning of 2017, Jeldu has been one of the project regions where the work is entirely financed by Menschen für Menschen Austria and implemented in collaboration with colleagues in Ethiopia. In the first step, initiatives will be implemented in 13 communities that are home to a total of 100,000 people.
Overview of the project area
Project start:
Staff:
Area:
Population:
approx. 200,000 people (entire region)
Main town in the region:
Location:
about 115 km northwest of Addis Ababa in the West Shewa zone. Between 1,900 and 3,200 meters above sea level.
Project coordinator: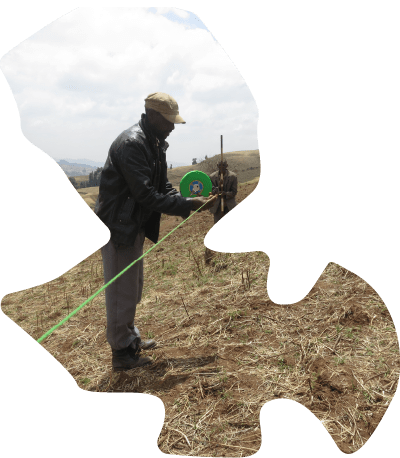 Challenges at the beginning of our work in Jeldu in 2017
About 90% of Jeldu's population depends on the yields of fields that are mostly too small. Severe deforestation in the region poses particularly serious challenges for people. Soils are no longer fertile and advanced soil erosion is rendering more and more fields unusable. The absence of forests also means that natural springs dry up. Potatoes and grains are the main crops cultivated in the region. Vegetables or fruit are to all intents and purposes unavailable, a fact that manifests itself in severe deficiency symptoms.
50 %
of the people do not have clean drinking water.
In many communities, only one in ten people has access to clean drinking water.
17 %
of people are affected by trachoma.
Bacterial eye inflammation can lead to painful blindness if left untreated.
50 %
of births take place in family huts.
And nearly one in two babies does not receive a medical checkup in the postpartum period.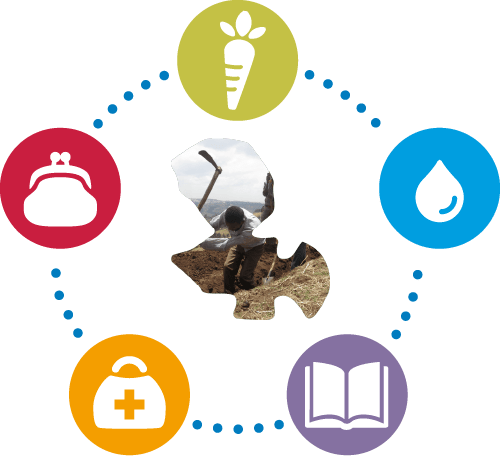 What we're doing in Jeldu
In the first three-year project phase (2017-2019), development initiatives were initially implemented in seven districts (kebeles). In the second phase of the project (2020-2022), the work was expanded to a total of 13 kebeles. In order to create a basis for long-term development and the implementation of further initiatives, projects in the areas of agriculture, water, and health will be implemented first.

Based on the principle of capacity building, Menschen für Menschen always implements initiatives together with the local population. Our extensive experience in the neighboring regions of Abune Ginde Beret and Ginde Beret is being incorporated into the project work in Jeldu.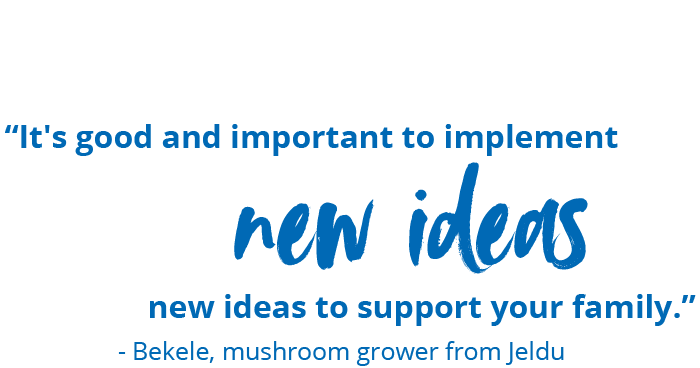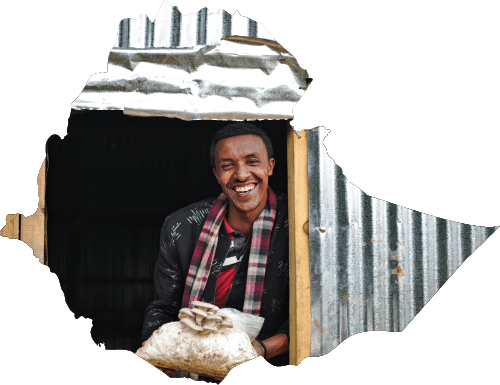 Project report (excerpt)
In addition to the initiatives indicated here, further activities in the fields of agriculture, water, and health will be implemented in order to create a good basis for the sustainable development of the Jeldu region.

Status of the evaluation unless otherwise specified: 6/30/2020
8
Nurseries established
The nurseries grow trees, grasses and shrubs for reforestation, as well as fruit tree saplings for families. The nurseries are later transferred to the responsibility of the population or local authorities.
101
Hectares of land reforested
The saplings from the nurseries are planted in fenced areas in collaboration with the population. The village community takes care of the maintenance and protection of the reforestation areas.
5,686
Fuel-efficient stoves handed out
Fuel-efficient stoves reduce the need for fuel by about half. Not only does this protect the tree population and the environment but women also save a lot of time because they have to collect less wood or brushwood.
29
Hand pump wells and spring catchments constructed
Wells and spring catchments are built near the villages. Clean, healthy drinking water sustainably improves people's health and saves them a lot of time collecting water.
209
Sight-saving operations performed
The main causes of blindness in rural areas are cataracts and trichiasis. The latter can be avoided simply through more hygienic living conditions. In the final stage, however, only surgery protects against blindness.
11,804
Women received contraceptives
Together with local health facilities, we are improving education about family planning options and access to various contraceptives.
The people behind the numbers: our success is measurable and changing lives.
To make our work's success verifiable, it's not just about the numbers and data, but first and foremost about the people. The following stories tell of the big and small successes achieved in Jeldu.
What we're doing in Jeldu Insights into our work
We have compiled a few exemplary milestones and successes that show what has already been made possible in Jeldu with the support of our donors since 2017.