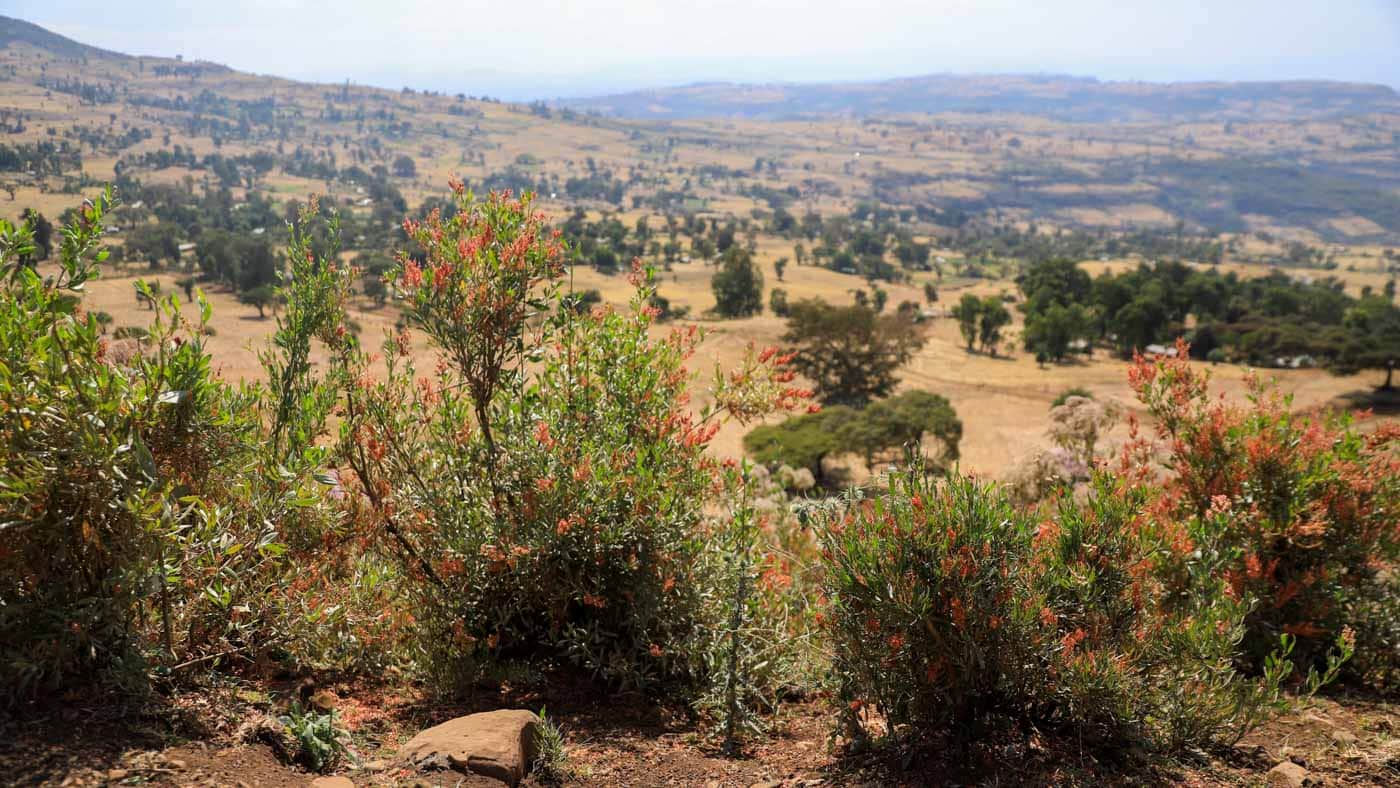 Project Area
Chobi
Chobi
Helping people to help themselves - long-term, for 71,000 people.
Since the beginning of 2021, Chobi has been one of the project regions in which the work is financed entirely by the association Menschen für Menschen Österreich. Implementation is carried out in collaboration with our colleagues in Ethiopia, who work hand in hand with the population.
Titel
Project start:
Staff:
Area:
Population:
Main town in the region:
Location:
about 120 km northwest of Addis Ababa in the West Shewa zone. Between 1,400 and 2,600 meters above sea level.
Project coordinator: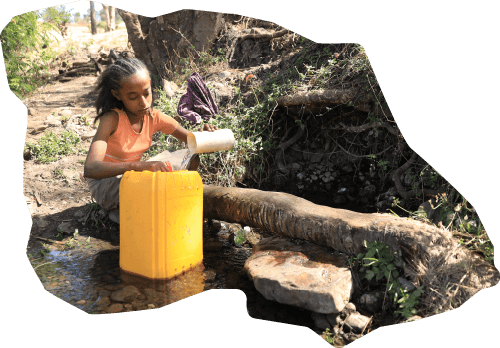 Challenges at the beginning of our work in Chobi in 2021
The people in the Chobi region face many challenges. In particular, the many years of deforestation and the resulting soil erosion are causing problems for families, most of whom are dependent on the yields from their - often far too small - fields. Due to increasing soil erosion, harvests are becoming smaller and smaller, and previously farming families have not had seeds for fruit or vegetables to secure their food supply. A further complication in the region is the lack of access to clean drinking water, health facilities and educational opportunities.
69 %
of the people do not have access to clean drinking water.
Due to which many people in the region suffer from preventable infections and intestinal parasites.
2-3h
to get to the nearest health facility.
An insurmountable distance especially for mothers in labor.
35 %
of people do not have access to health care.
A simple infection can therefore quickly turn into a deadly disease.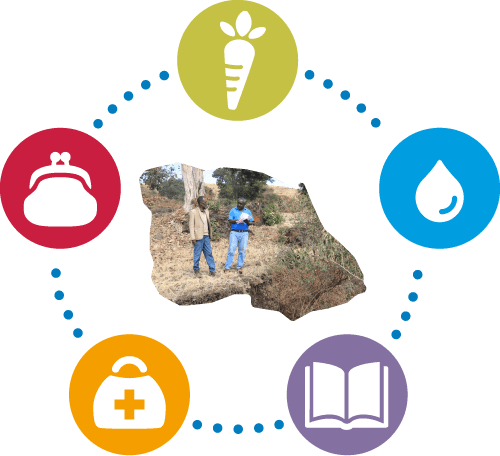 What we're doing in Chobi
Based on the principle of "helping people to help themselves", the Ethiopian employees of Menschen für Menschen have, from 2021, put in place a variety of initiatives in the areas of agriculture, water, education, health and income.

Project work is always implemented hand in hand with the population. Families actively participate in the initiatives, and completed projects are gradually handed over to the responsibility of the population and local authorities. In this way, an important foundation for further development is created and the entire region becomes independent of external aid in the long term. In Chobi, the population benefits from the work of the experienced project manager, Berhanu Bedassa, and a team which is also active in the project regions of Ginde Beret and Abune Ginde Beret.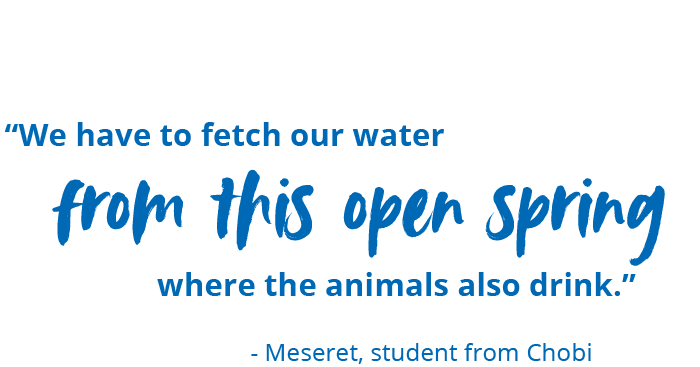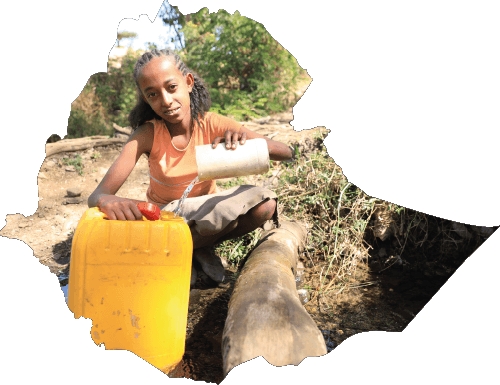 Project planning 2021
Beyond the initiatives indicated here, further activities are being implemented in the fields of agriculture, water, education, health, and income in order to create a good basis for the sustainable development of the Chobi region. Planning through the end of 2021 in Chobi includes:
30 ha
of land reforested
The saplings from the nurseries are planted in fenced areas in collaboration with the population. The village community takes care of the maintenance and protection of the reforestation areas.
75 km
of terraces created
Together with the local population, we built terraces out of stone- and earth walls to prevent erosion of fertile grounds and to increase crop yield.
200
farmers participating in training sessions
In our courses, women and men learn improved agricultural techniques and ways to irrigate and to prevent erosion. The knowledge helps them increase their crop yield.
4
wells and spring barrels built
Wells and spring catchments are built near the villages. Clean, healthy drinking water sustainably improves people's health and saves them a lot of time fetching water.
30
sight-saving operations performed
The main causes of blindness in rural areas are cataracts and trichiasis. The latter can be avoided simply through more hygienic living conditions. In the final stage, however, only surgery protects against blindness.
2,800
women given contraceptives
Together with local health facilities, we are improving education about family planning options and access to various contraceptives.
2,820
children receiving life-saving vaccinations
Easily preventable illnesses are still common in Ethiopia, due to lack of vaccination. We support vaccination campaigns to protect children.
200
households receiving fuel-efficient stoves
Fuel-efficient stoves reduce the need for fuel by about half. Not only does this protect the tree population and the environment, but women also save a lot of time because they have to collect less wood or brushwood.
10
young people benefiting from income-generating initiatives.
young people benefiting from income-generating initiatives.
The people behind the numbers: our success is measurable and changing lives.
To make our work's success verifiable, it's not just about the numbers and data, but first and foremost about the people. The following stories tell of the big and small successes achieved in Chobi.